Dev Update #3 – Paddling Minigame Complete and New Journal
Paddling mini-game completed! And bonus new diagetic journal image.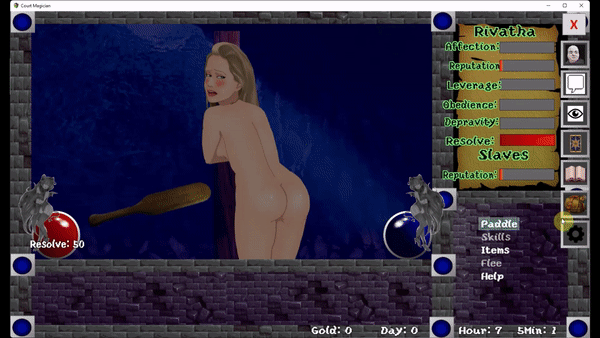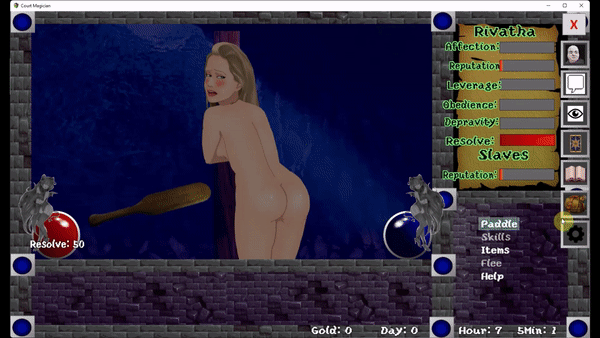 We are pleased to share that we have completed the "paddling" mini-game and it exceeded our expectations!
This mini-game is expandable to a variety of different characters, but for this version will be focusing on paddling a slave girl in the climax of the introductory quest. I'm quite pleased with this version as I was able to incorporate a swing-power system. When you paddle the slave girl, you pick which cheek to smack (2 different animations) and then hold the mouse button to get the power bar to the optimal zone and release. Its quite intuitive and fun! Also, each cheek gets redder with each successive smack.
The mini-game also includes and intro and outro screen and an animation for the slave girl's counter attacks. Overall, the mini-game is good and fully operational within the larger game. So mission accomplished.
As a bonus, I also replaced the placeholder graphics of the journal system with a custom-made version that matches the art.
For the next update I would like to get the sexy maid picture colored and ready to animate and import into the game. This will be an image that the player will see when they leer at the young maids cleaning the castle.
I also want to get the custom dialogue integrated that I mentioned last week. I have built out the framework for each computer generated character to have their own likes/dislikes, personality etc (the better to manipulate you with my dear!), but I still need to write the scripts to populate it and interact with it.
I'm not sure if that will be able to completely be finished in two weeks, but I should at lease be able to have enough so that the characters can express their personality.
Going forward, my main goal for the alpha (sign up here, if you haven't already) is to have at least one (possibly two) excellent and interactive lewd scenes. I have one already mocked up with placeholder art, but I'd like to replace it with my own art—possibly BJ and anal.
We shall see. Until next time my fellow evil magicians!